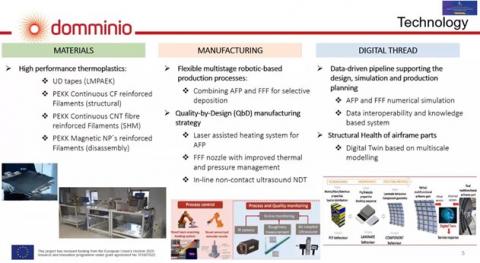 On 2 September 2021, the DOMMINIO project participated to the 11th EASN Virtual International Conference, which took place from 1 to 3 September 2021. This year more than 370 presentations were carried out, rounded up by 9 keynote lectures, covering a wide range of topics with presentations of innovative European projects.
DOMMINIO was presented in a joint session about "Next generation multifunctional and intelligent airframe & engine parts: manufacturing, maintenance & recycling" together with H2020 projects, SUSTAINAIR and MORPHO, chaired by CINEA project officer, Mr. Hugues Felix.
In DOMMINIO, the partners are working to develop an innovative digital methodology to design, manufacture, maintain and pre-certify multifunctional and intelligent airframe parts, based on:
Robotized technologies (ATL, FFF)
Advanced simulation tools
On-line process & quality monitoring
SHM (Structural Health monitoring) methods enabled by real time data-driven fault detection
Our colleague Ricardo Losada from AIMEN project coordinator, perfectly explained the DOMMINIO assets and the methodology to achieve the project's mission, which constitute the cornerstones of the project:
Innovative materials
Innovative manufacturing
Digital thread
The methodology expected to derive from the DOMMINIO project will be further tested and validated at lab scale, by manufacturing two representative airframe parts as demo cases.