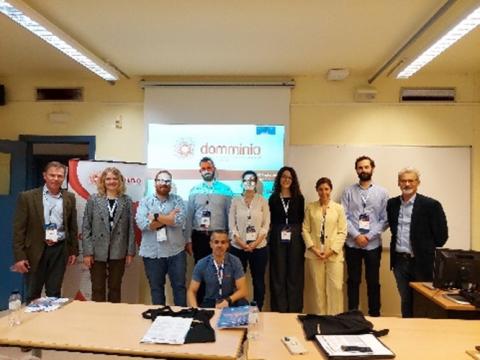 The DOMMINIO project was delighted to be hosted at the 12th EASN International Conference on "Innovation in Aviation & Space to the Satisfaction of the European Citizens", which took place between 18 and 20 October 2022 in Barcelona, Spain. 
Over the years, the EASN conference has been established as a major European Dissemination event. More than 450 researchers from various disciplines who presented their high-quality recent achievements and new upstream research ideas attended this 12th EASN international gathering. 
The DOMMINIO consortium exploited this opportunity and co-organized the 2nd DOMMINIO workshop, on Tuesday, October 18, 2022, from 10:45 to 13:05 CEST, chaired by the project coordinator Ricardo Losada Mateo.
The workshop's main objective was to raise awareness about the project by providing an excellent opportunity for relevant stakeholders and end-users to delve into the DOMMINIO cutting-edge science and technology.  
Panelists representing industrial and academic stakeholders presented the latest advances in the theme of "Additive manufacturing and thermoplastic composites" through the following presentations:
Introduction & DOMMINIO Overview Ricardo Losada Mateo
Continuous fiber thermoplastic materials for 3D printing Rodolphe Henri
The silent revolution of composites additive manufacturing via compact AFP and CFRP 3D printing systems Pravin Luthada
Process and performance evaluation of Automated Fiber Placement (AFP) for CF/LM-PAEK composite Francisco Ansedes, Noelia GonzálezCastro, Ivette Coto, Adrian Rodríguez, Ricardo Losada, Elena Rodríguez- Senín
Improving thermal management of FFF nozzle for aerospace applications Claudia Salvan, Mustafa Megahed, Thomas Joffre, Wolfgang Ottow, Antoine Runacher, Stephane Pelletreau
Development and characterization of magnetic nanoparticle reinforced filament for additive manufacturing applications Christos Tsirogiannis, N. Lora, S. Anagnou, D. Semitekolos, P. Maroulas, K. Zafeiris, C. A. Charitidis
A presentation of the latest DOMMINIO results followed and a round table discussion closed the event providing a forum for exchanging ideas between presenters and the audience.
The DOMMINIO consortium would like to take this opportunity to thank all participants for attending and fuelling fruitful discussions.